Ascension Press (& Ascension Presents)
For more than 20 years, Ascension Press has been a respected name in the publishing industry due to its popular Bible studies and sacramental prep programs. But this innovative ministry expanded beyond the printing press to reach the masses through social media and other streaming platforms.
A legacy of success
Pennsylvania-based Ascension Press is a great resource for Bibles, devotionals, and study materials, as well as CDs and MP3 downloads. And they have measurable success with both adults and children. With nearly 8 million books sold, they boast of helping grow the faith of 10 million Catholics and eight thousand parishes.
Publishing in the digital age
As the internet began competing with traditional publishing formats, Ascension Press launched Ascension Presents, a digital platform of online videos, podcasts, and articles. Its youthful content creators, including priests and religious, have gained hundreds of thousands of followers.
Evangelizing Millennials
The keys to Ascension Presents' online success are short yet challenging chunks of content (most videos are under 10 minutes), plus an appealing lineup of young evangelists.
Fr. Mike Schmitz: a priest who works in college ministry and is a popular speaker at youth conferences.
Jackie and Bobby Angel: A younger married couple who speak on love and faith.
Matt Fradd: An outspoken husband and father who catches people's attention with his Australian accent.
Franciscan Friars of the Renewal: A group of hip New York religous who teach practical holiness.
and many more
Going Viral
Ascension Presents made national headlines when their podcast The Bible in a Year (with Fr. Mike Schmitz) earned the title of #1 podcast on Apple charts.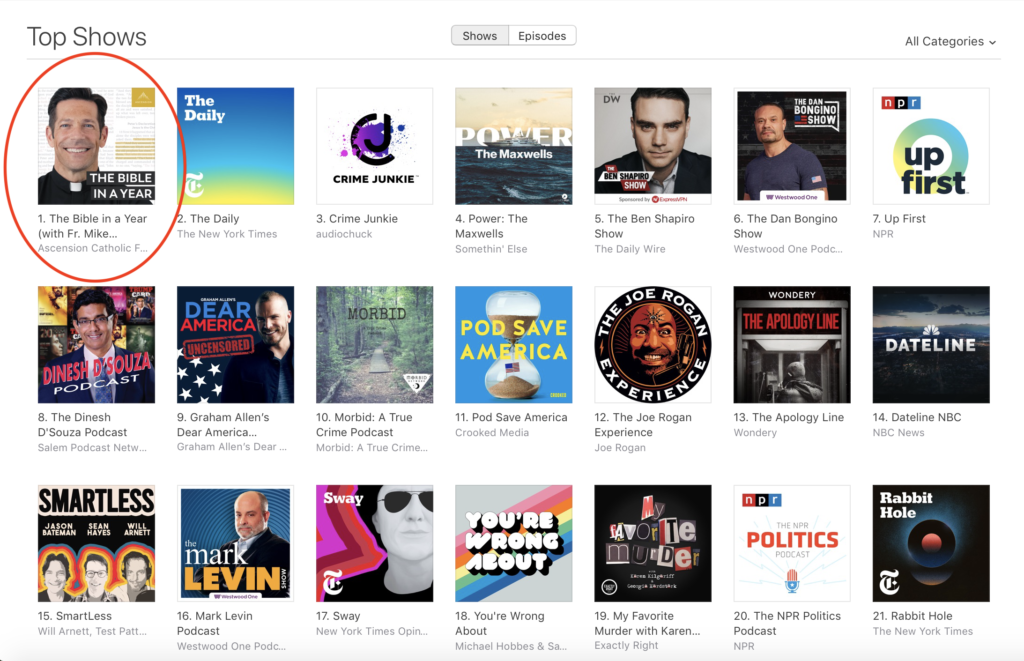 This innovative format combines an audio bible and scripture commentary into easily digestible episodes.
Bible scholar Jeff Cavins designed a reading plan that guides Christians through the entire content of the Revised Standard Version – Second Catholic Edition. Ascension Press also offers a special edition of the RSV called The Great Adventure Catholic Bible that compliments this reading plan.
During the podcast, Fr. Schmitz reads each day's scripture chapters and then offers a brief reflection to help listeners better understand the passages in light of the Gospel and our entire Salvation History.
The service enjoys wide distribution including
About Streaming Catholic
Streaming Catholic helps you discover the best Catholic content to watch, read or listen to.
We also help Catholic churches raise the funds needed to bring high-quality religious education resources to their congregations.